Sony available some headsets for apple devices: DR EX300ip, MDR-EX38ip, DR-V150iP, MDR-E10iP are the new headsets Sony offer for fans and consumers of  iPod  andiPhone. Equipped both with built-in microphone for hands free calls and in-line remote control, except for the over-the-head headset the DR-V150, all are in-ear headsets and all four models are compatible with iPod Shuffle (3rd generation), iPod Nano  (4th, 5th generations), iPod Classic 120GB/160GB (2009), iPod Touch (2nd generation), and iPhone 3GS.Frequency response and impedance for each model are as follows: DR EX300ip 5-24,000 Hz & 16 Ω; MDR-EX38ip 6-24,000 Hz & 16 Ω; DR-V150iP 16-22,000 Hz & 24 Ω; MDR-E10iP 18-22,000 Hz & 16 Ω.The MDR-EX38ip is available now while the others will be available as of  May 2010.
Guys you can find DR EX300ip, MDR-EX38ip, DR-V150iP, MDR-E10iP in the sonyshop or the  applestore.You can also test the phones on Sony Ericsson mobile then let's see how it comes out
Sample Images:
DR-EX300iP
Features DR-EX300iP:
13.5mm driver

– Experience high quality, crisp sound through 13.5mm Neodymium driver unit – whether you're listening to music or talking through the built-in mic

EX Monitor

– Technologies used for professional grade recording studio monitors are injected into our EX type headphones for incredible sound quality

Designed for comfort

– Vertical in-ear design for long lasting comfort, with 4 sizes of hybrid silicon earbuds. Bullet-shaped for secure fit and sound isolation

Dual use

– Built-in microphone lets you use as headphones for your iPod music or an internet telephony headset with your iPhone

In-line remote control

– Made for iPod remote control lets you adjust the volume, skip, play and pause tracks (plus VoiceOver for iPod Shuffle)

Easy to carry

– Comes with genuine leather carry case, cord adjuster and cord extension for easy use on the move and simple storage

Made for iPod

– Compatible with iPod Shuffle (3rd gen), iPod Nano (4th and 5th gen), iPod Classic 120/160GB, iPod Touch (2nd gen) or iPhone 3GS
MDR-EX38iP:
Features MDR-EX38iP:
Enjoy fingertip control over your iPod menu with a convenient Made for iPod in-line remote: Adjust volume, play, pause, forward, backward, VoiceOver* functions easily on the move
Compatible with iPod Nano (4th generation), iPod Touch (2nd generation), iPod Classic (120GB) and iPod Shuffle (3rd generation) models
Great sound quality with a 9mm Neodymium driver unit for deep, powerful bass
Designed for excellent listening comfort, choose from 3 sizes of hybrid silicon earbud (S,M,L) for a great fit and minimal sound leakage
Convenient cord adjuster and cord slider to prevent tangling
* for iPod Shuffle only
DR-V150iP: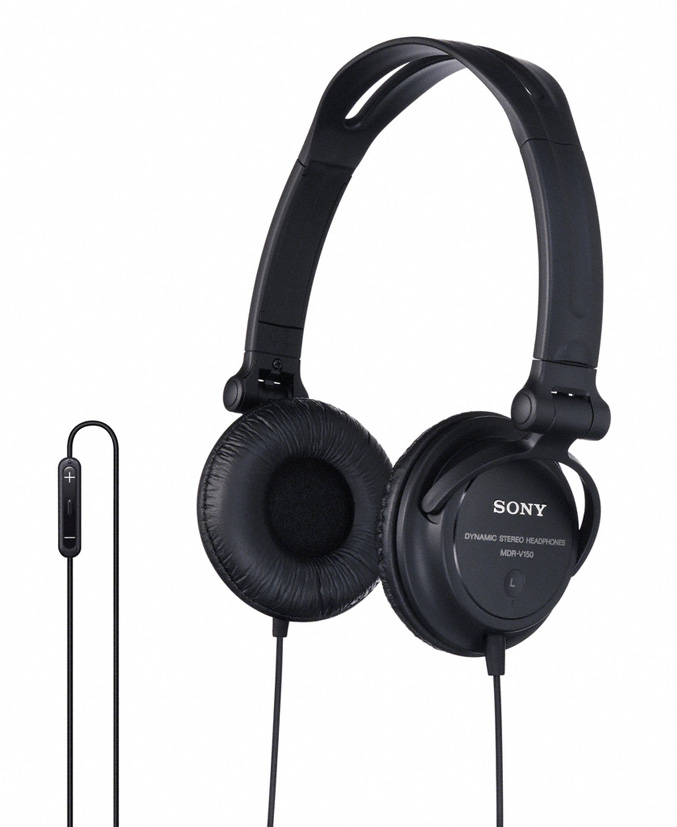 Features DR-V150iP:
For iPhone® and iPod® lovers who want the big sound not found in earbuds, these DR-V150iP Studio Monitor Series headphones offer an ideal mix of studio-quality sound, high-end materials and advanced engineering. They feature a supra-aural design for excellent listening comfort, as well as 30mm diameter drivers for deep bass and reversible earcups for single-sided monitoring. The wide, molded headband is extremely comfortable, and the in-line remote control and mic lets you navigate through music and make calls with iPod® and iPhone®.
more info here: sonystyle
DR-V150iP: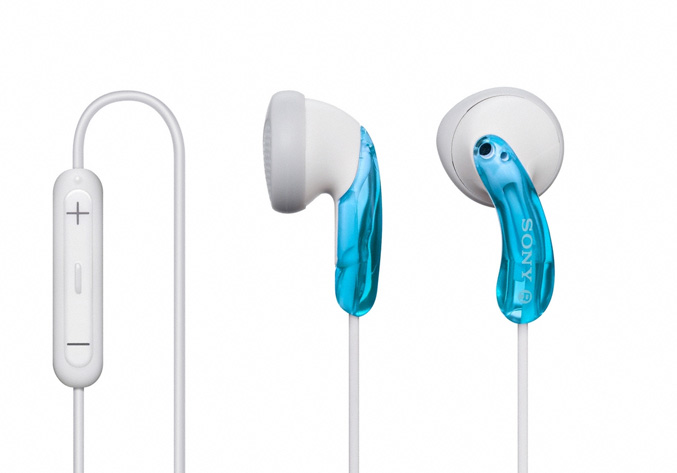 Features DR-V150iP:
"Tailor-made for DJs, the dual-purpose DR-V150ipP delivers crisp, commanding sound when you're mixing pumping club beats. Away from dance floor, it delivers equally commanding sonic performance with your iPod or iPhone. Deep bass and generous power handling are assured by the 30mm ferrite driver. There's a large adjustable headband for fatigue-free wear during the longest DJ set, while reversible earcups allow convenient 'single-sided' monitoring when you're behind the decks."
MDR-E10iP:
Features MDR-E10iP
"Stylish, colourful and great value, the MDR-E10iP let younger listeners express their individualty while listening to their favourite sounds. There's a choice of four fashion colours (Pink, Gold, Blue, Grey) to co-ordinate with your iPod or iPhone. Crisp sound from the 13.5mm Neodymium driver is partnered with high-comfort wear, thanks to the supplied soft ear-pads that make a great fit for smaller ears."
The new DR-EX300iP, DR-V150iP and MDR-E10iP headsets from Sony are available from May 2010. The MDR-EX38iP is available now.
| | | | | |
| --- | --- | --- | --- | --- |
| | DR-EX300iP | MDR-EX38iP | DR-V150iP | MDR-E10iP |
| Type | Closed | Closed | Closed | Open |
| Freq. resp. | 5-24,000 Hz | 6-24,000 Hz | 16-22,000 Hz | 18-22,000 Hz |
| Driver | 13.5 mm, Neodymium | 9 mm, Neodymium | 30 mm, ferrite | 13.5 mm, Neodymium |
| Impedance | 16 Ω | 16 Ω | 24 Ω | 16 Ω |
| Plug type | Gold plated stereo mini | Gold plated stereo mini | Stereo unimatch | Stereo mini |
| Supplied accessories | Carrying case, cord adjuster | Cord adjuster | - | - |
| Weight | 5 g | 3 g | 120 g | 6 g |
| Available colours | Black | Black, White | Black | Pink, Gold, Blu |
This accessories (DR EX300ip, MDR-EX38ip, DR-V150iP, MDR-E10iP)  is compatible with the following:
iPhone 3GS
iPod touch
2nd generation
iPod classic
120GB 160GB (2009)
iPod classic
160GB (2007)
iPod nano
5th generation (video camera)
iPod nano
4th generation (video)
iPod shuffle
3rd generation
Via: sonyshop
Tweet